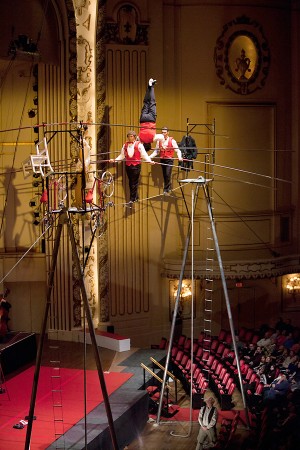 Our family went to the Circus Flora show at the Symphony last night!
Okay - one envelope of fabric that I orderd over the past two weeks arrived.
"An envelope?," you say. "That doesnt' sound so bad."
Well, there were 7 yards of fabric crammed into that bubbly, padded, priority mail envelope!
Here it is, some navy on white, red, teal, and two black on whites for
Easy Street
. The red was really a "just because" purchase and may make into the quilt. The teal will probably be cut this afternoon and some of the black and white has already been chopped into little triangles.
My new "dealer" (aka source) for this fabric is Tonya from
Hillbilly Handiworks
. Earlier this year she started a fabric auction group on Facebook and then made contact with some fabric reps and started selling on Facebook. The group is called
Ozark Fabric and Other Fun Stuff
.
If you do Facebook, search for it! This isn't a fabric store. She gets what she gets. She cannot get you the newest Moda line for $7/yd. Usually she gets one bolt of fabric, sometime less, and possibly several bolts from the same line. Then, Tonya posts a photo album stating price per yard and how much is available. Then you leave a comment on each photo saying how many yards you want. It is first come first served; when a bolt is sold, it's sold. You cannot buy less than a yard and there are rules regarding invoicing for fabric and for shipping. That's another thing - Tonya ships priority mail in envelopes, medium boxes and large boxes and she knows how to pack in the fabric. All the rules are explained in documents under the "Files" tab.
I have a confession to make. I watched lots of fabric being posted before I actually purchased any, being on a "diet" and all. It is fun to watch what fabrics she gets next.
The fabric that arrived this week is from known companies: In the Beginning, Blank, Quilting Treasures, and Red Rooster. There are still 5 yards of Robert Kaufmann flannel (@ only $5.50/yd) waiting in a medium box to ship whenever it gets full. I don't think I paid more than $5.50/yd for anything and several are much less. If you do lots of sewing for kids or charities, Tonya gets lot of flannel and kids novelties prints.
But that's not all....
My guild had our Christmas party this week. We played Bingo and each person brought one dozen cookies. Well, there was a table full of prizes and so many cookies that I lost track of how many boxes were given away as door prizes. I think only 3 people did not win a Bingo prize, so they got boxes of cookies. My prize was a Craftsy gift certificate for a free class! And an EZ 45 degree ruler. Ladies at my table won gift certificates for services from other members like binding and quilting.
Our president handed out gifts to the officers and she gave us each one yard of this pretty New York fabric from the City Quilter. Notice that it's B&W! I'm going to cut off one repeat and save it for the backing and cut the rest for Easy Street.
Speaking of
Easy Street
, I've not worked on clue #4 yet. I've been trying to finish this bag that I started back in November. No, not last month - November 2011! With all the craziness, it has been since April that I made a bag and I had to figure what I was doing with this one. There will be added pockets and a zipper.
Oh yes, I also made 4 of these
Little Wallets
(Valori Wells pattern) from scraps. There are 9 pieces to cut but, truly, this is the easiest wallet I've ever made. Now to sew the snaps on and they are complete. Each one might use the equivalent of a FQ.
And, I mailed some of these scraps as a surprise to a blogging quilty friend. I didn't check to see just how much was going out but I know there were 2 FQs so there was at least 1.5 yards in the envelope.
I've cut enough 3.5" squares for a lap quilt and used some scraps for the Little Wallets. There are still a few pieces in my bins to cut up for the scrap system or for more little wallets, but I am done with these "modern" fabrics.
Wednesday is DS's 6th birthday! He is so big and such fun at this age, well, most of the time, lol. We leave later this week for a family holiday get together. DH is home for the rest of the year, using vacation days that he would lose otherwise. I'm counting on a little help with packing and last minute buying.
How are your holiday plans/preparations progressing?
To the numbers:
Used this week: 2.5 (used and gifted)
Used year to date: 31.025
Added this week (purchased/won): 7
Added this week (inherited/gifted): 1
Added year to date (purchased/won): 69.631
Added year to date (inherited/gifted): 69
Added year to date total: 138.631
Net used for 2012:
-107.606
Please click over to
Patchwork Times
and see other stash reports.
Have a great week!